Greetings
Endovascular Asia 2018
in Partnership with CLI Asia
"NEW VALUE CREATION"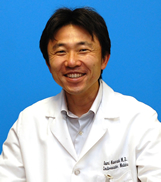 Endovascular Asia 2018 will be held over two days, November 30 and December 1, 2018. This year's meeting will be at the SKYO Convention Hall in the Namba area of Osaka, which is now seeing a series of urban projects that is turning it into a new gateway to Asia.

Endovascular Asia started in 2010 as a grass-roots project called the Bay Area Endovascular Summit (BEST). In 2015, it expanded its focus towards Asia. It was renamed Endovascular Asia (EndoAsia). Today, specialists including cardiologists, vascular surgeons, radiologists, orthopedists, and plastic surgeons gather from all over Japan and Asia to engage in passionate discussion in English. The ninth meeting will be held this year.

Due to the worldwide increase in the number of patients with diabetes and chronic renal disease, diagnosing and treating atherosclerotic peripheral artery disease has become an important task. In particular, diabetic foot deformity and critical limb ischemia caused by end-stage renal disease are urgent challenges. Our goal is to establish a diagnosis and treatment strategy adapted to the current situation in Asia by taking the best advantage of endovascular treatment, based on the principle that endovascular treatment is not a goal but a method to save patients' limbs and the desire to promote multidisciplinary therapy for wounds.

This year, we would like to focus on the following innovative topics:
- Introduction of practical procedures through live demonstrations
- Tackling calcification
- Unveiling of the PICKING and PIERCE techniques, procedures developed in Japan
- Current trends in Asian countries
- Latest topics from the United States and Europe
- Diagnosis and treatment of non-atherosclerotic diseases
- Approach for structural heart disease and venous and lymphatic diseases complicated by arterial disease
We are earnestly making all necessary arrangements so that EndoAsia will continue to give participants the opportunity to discuss appropriate management of vascular disease in Japan and other Asian countries. We are looking forward to your active participation.
Endovascular Asia 2018
Course Director
Osami KAWARADA , MD, PhD
Copyright © Endovascular Asia. All Rights Reserved.